Kid-Friendly Flooring
Our children color our world. But let's face it- they also color outside the lines! Finding a floor that can handle paint splatters, toppled apple juice, and muddy sneakers is a parental priority and we're here to help. At Bradford Floor & Home of Peabody, MA we offer up a wide range of resilient, stain-resistant flooring options made to manage even the toughest days with the kids. With our expansive inventory including carefree carpeting by Karastan, LEES, and Tigressa; as well as resilient luxury vinyl tile and plank by COREtec, you need not sacrifice your style goals. Call us today to learn more about our kid-friendly flooring options.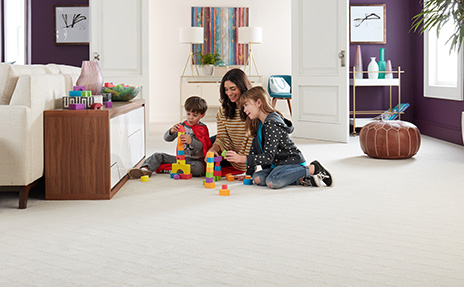 Carpet
Carpet is a soft, cozy, and warm kid-friendly flooring choice. It offers more protection in a fall than hard-surface floors, and it provides extra noise-absorption to promote a quiet and calm environment to live and thrive in. We have stain-resistant and even waterproof carpets that are easy to clean and care for. We also have carpet tiles, which are excellent for playrooms because each carpet square can easily be replaced if it's stained or damaged. Additionally, both our wool and waterproof collections are hypoallergenic as they inhibit the growth of allergens and mildew.
Luxury Vinyl
Our luxury vinyl products gorgeously replicate the appearance of natural wood flooring, tile, and stone without the cost and upkeep. We offer both moisture-resistant and completely waterproof LV selections that are ultra stain-resistant and easy to care for. Luxury vinyl surfaces are inherently hypoallergenic, and we carry low VOC emitting products. You can also choose options that have a cushioned core or antimicrobial cork underlayment, which adds noise control, softness underfoot, and warmth.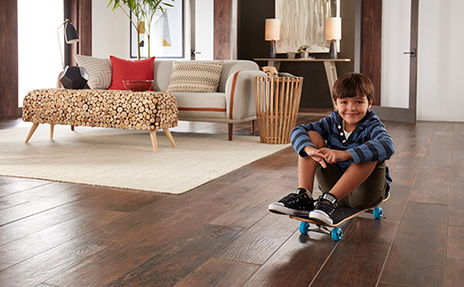 Hardwood
Many families love the look of real hardwood in their homes, but worry about stains, moisture-damage, and daily wear and tear ruining their investment. We offer several innovative, genuine hardwood products that are perfect for active families with children and pets. This includes our Hydrotek waterproof hardwood collection, which features premium cuts of maple, hickory, oak, walnut, and more, overlaying a waterproof vinyl sublayer.

We also have engineered hardwood, which is made from laminated layers of 100% natural wood throughout. The layered construction creates structural stability and resists warping when exposed to humidity and spills – and you can choose a stain-fighting, water-repellent finish on top.
Ideas and Inspiration for Kid Friendly Spaces
Kid-Friendly Design Ideas

Creating a kid-friendly home doesn't end with the floor. Here are 10 tips for designing a beautiful space for your children to roam and grow.

Bedroom Zones for Children

In addition to kid-friendly flooring and design tips, learn about the benefits of creating separate zones in your child's room for sleeping, playing, studying, and more.