What Is Commercial Vinyl Flooring?
Bradford Floor & Home in Peabody has been serving the commercial flooring and installation needs for over 29 years for eastern Massachusetts, southern New Hampshire & parts of Rhode Island. No project is too big or too small for us to take on. We specialize in quick turnarounds, quality installations, and exceptional project management. We make sure to complete your project on time and in budget.
To learn more about our commercial services, check out our commercial work page.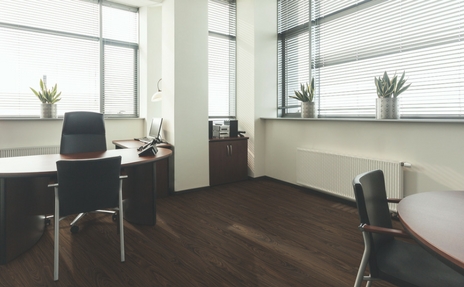 About Commercial Vinyl
Vinyl has been a popular option for commercial applications for years, and for many of the same reasons it is becoming popular in residential settings. It is water resistant and low maintenance, which helps to control the cost of maintenance, and it is made to be durable so you do not have to replace it so often. It is also available in a wide variety of colors, textures, and style options. It can even be printed to simulate the look of hardwood, stone, or ceramic.
Just like with all flooring, you get what you pay for. The quality of the material that you purchase will directly impact how well it will withstand the harshness of varying levels of foot traffic.
Commercial vinyl flooring is best for applications such as schools, colleges, hospitals and clinics. Commercial vinyl can withstand rolling traffic when installed properly. Most options feature homogeneous coloring, which means the colors run evenly through the flooring so there is no discoloration or fading away from wear.