What Is Commercial Carpet?
Bradford Floor & Home in Peabody, MA has been a trusted retailer and installer of commercial flooring for over 29 years serving eastern Massachusetts, southern New Hampshire & parts of Rhode Island. We can tackle any sized project, big or small. We specialize in quick turnarounds, quality installations, and exceptional project management. Our mission is to complete your project on time and in budget.
If you are interested in learning more, check out our commercial flooring guide.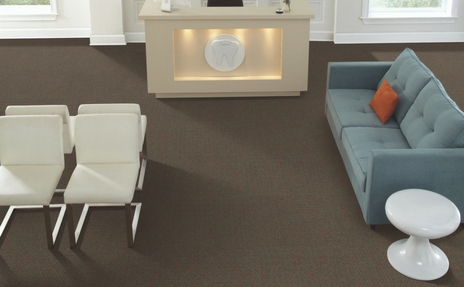 About Commercial Carpeting
Apart from the style of carpet and the type of fiber, there are several other features in determining the overall performance of a commercial carpet. All commercial specified carpet on the market today features stain protection.
For busy commercial spaces, dark colors are a popular choice. The darker colors and patterns are traditionally more forgiving than solid colors. Stains and spills over time will blend in with the pattern, allowing the carpet to last longer in a commercial environment where spills are common. However, it's becoming increasingly common for commercial spaces to mimic the comfortable environment of a residential setting. We see this often in office settings.
It is important for residential carpet to be comfortable, just like durability is a top priority for commercial carpet. Commercial floor covering is created to handle high levels of foot traffic day after day. It is carefully designed to withstand repeated heavy foot traffic without looking worn. You can keep your commercial carpet clean the same way you keep your household carpet clean, by simply vacuuming on a daily basis.